We offer speciality desserts such as gluten free varieties of desserts including carrot cake, chocolate cake, brownies and cookies. We also have various cheese cakes, mousses, old fashion desserts such as peach cobbler and apple crisp. Ask us for suggestions.
individual cheese cakes with chocolate mousse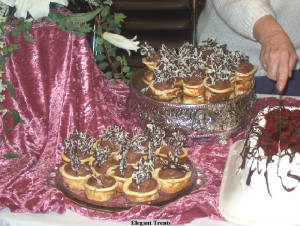 We can also add a ceramic Nauvoo Temple or other Cake Topper to your cake, Just Ask US!

Nauvoo Wedding Services
DelmaRae Menke
315 S. Gordon St. PO Box 12
Nauvoo IL 62354

217-453-6818 Cell 217-430-2768
info@nauvooweddingservices.com